We offer transport for all types and grades of containers, right across Victoria.
While we focus on the Melbourne metro area, many of our deliveries are to country Victoria. A range of transport options are available, see below for indicative pricing or obtain a free instant quote using our online tool.
Tilt Tray
Tilt tray trucks are available for immediate delivery of 20 foot containers. They unload the container lengthwise only, and require 16m in front of where the container is to be placed. This is the most cost effective method of transport. We pride ourselves on being the Restricted Access Specialists, so if you have a tricky spot that you would like your container delivered to, give us a call!
Prices depend on distance and location and starts from $176.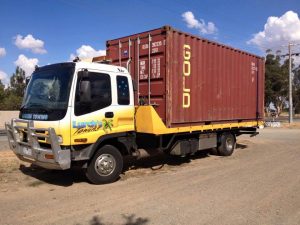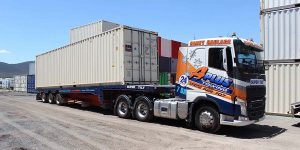 Supertilt
If you need a 40 foot container, we can arrange a super tilt tray to carry one direct to you. Super tilt trucks also load lengthwise from the rear. Pricing depends on distance and location and starts from $550.
Side Loader
Side loader trucks enable you to 'parallel park' your container. They unload from the side, great when you need to get the container next to a building or shed but don't have fore-aft access. One truck can take a single 40 foot container, or two 20 foot equivalent units at once.
Pricing is based on distance and must be custom quoted. Contact Us for more details and figures.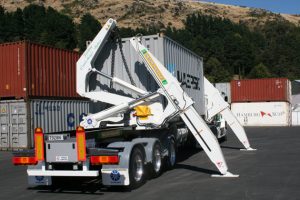 Use Your Own Transport
If you have your own freight provider then we are happy to work with them. Contact Us with your questions, we're here to help.
Questions? Please contact us today. Or if you know what you are interested in, use our free online quote builder to price your specific requirements.